Our Product Team has been working hard to deliver some exciting improvements to the app over the last few months, and I'm delighted to share some key new updates which we've just released!
Worker List Updates
We decided to give some extra love to the Worker List view, and make it easier for Admins to manage not only your our workforce but also internal HR Requirements.
In the latest Worker List updates, you'll see some new changes including:
Improved search and filters!
The 'filters' button opens a side panel where you can search for Workers based on their assigned Organisations, Sites, Compliance or Account Status (and more). You can then easily remove filters by closing the blue filter tags above the Worker List.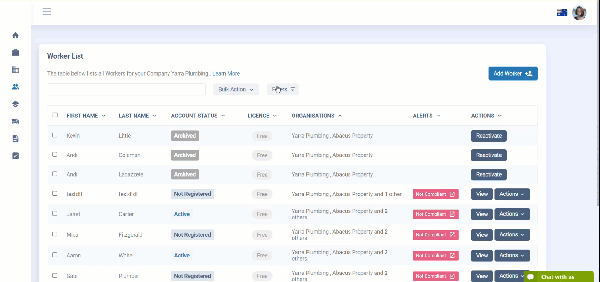 At a glance compliance snapshots
Hover over the Organisations for each Worker to see a full list of Clients and their compliance status for each connection.

If your Worker is missing requirements for one or more Clients they are assigned to the status in the 'Alerts' column will be Not Compliant
Click the Not Compliant status button to see all outstanding Requirements for each Worker
Scroll View for Smaller Devices
When viewing on smaller devices, you will see that some columns are hidden in a scroll view beneath the fixed 'Action' rows. This change helps readability and stops columns from getting 'squished' together.
To view your data in smaller sizes, just use the horizontal scroll feature by holding down the shift key down while you operate the scroll wheel on your mouse or mousepad
Bulk Actions
Need to complete the same action for more than 1 Worker? You can use the new Bulk Actions button to apply the same change to multiple Workers at the same time. Simply select the checkboxes (left) and then use the Bulk Actions button to assign Internal Documents, send login emails, or Archive Workers.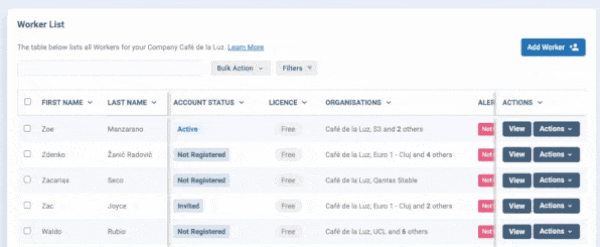 This feature is designed to help Contractor Administrators who are managing HR & Admin for their business, as well as Worker compliance for Clients.
---
Updates to the Client List
We've moved the Clients List to the side navigation panel, making it easier to find and manage your new Client connections.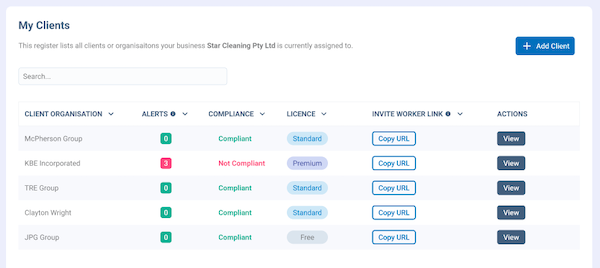 Changes to the Clients List view include:
Alerts & Compliance for each Client
Easily see how many outstanding Requirements you have for each Client with the new Alerts badge
This badge displays a number which indicates the number of outstanding Requirements for your Company for each Client you have shared to (Hint: click to view and action)
Note - some alerts may not affect Compliance, while others do. You can always view your overall Compliance status for a Client in the Compliance column
Client Licences
Comply Flow recently launched Worker licences for Enterprise Clients (replacing tokens). Changes to Licences in Comply Flows now means that:
Any Workers you share to these Clients will need a matching Licence type (e.g. Standard or Premium)
That the same Worker licence can be used for an unlimited number of Clients (with the same or lower licence requirements)
---
To learn all about the ins and outs of these new changes, check out the Worker List guide and the Clients List guide in our Contractor Knowledge Base.
Have feedback? Get in touch at hello@complyflow.com.au - we'd love to hear how we can improve your experience of the platform.
Want to see the changes? Log In