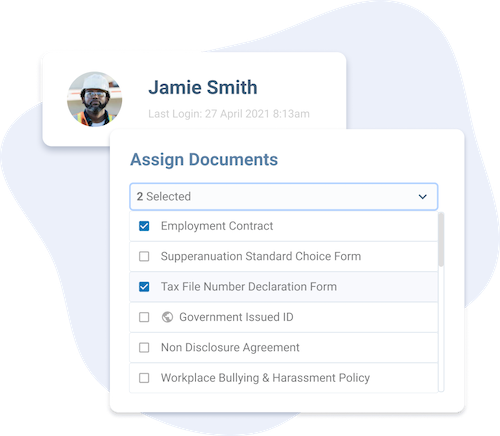 As part of a bunch of exciting new changes to the platform in the coming weeks, we are excited to announce our latest feature for Contractors: Internal Documents!
This article highlights the key benefits of this new feature for Contractors, and answers all your important questions about how it works for businesses using Comply Flow.
Who will this feature help?
This feature is designed to help Contractor Administrators who are managing HR & Admin for their business, as well as Worker compliance for Clients.
For Admins managing HR, keeping everything in one place is now a breeze with Internal Documents.
You can create custom documents (and attach templates) to quickly assign things like:
Employment Contracts
Payroll, Tax & Superannuation forms
Company Policies & Procedures
Non-Disclosure Agreements
Employee Handbooks
… and whatever else your business might need. Your workers will see all assigned Internal Documents on their dashboard for them to fill out and upload - keeping all HR documents & information in one place!
You can also assign your own Workers any Global Documents. This is a list of Document Types that, once uploaded and verified, can be shared instantly across any Clients your Workers are assigned to - saving you time and stress when getting compliant!
What does this mean for my business?
These new features mean that:
Your business can now use Comply Flow to manage all Worker HR & Documentation (for free!) and keep everything HR & Compliance in one place.
You can also create custom Document Types for your business (Company) or Plant Document types to streamline record management for physical assets such as plant & equipment
You can still assign your workers Global Documents that are universally recognised in the platform (once verified) to save time when managing compliance for multiple clients
To learn all about the ins and outs of this new feature, check out the HelpDesk article here.